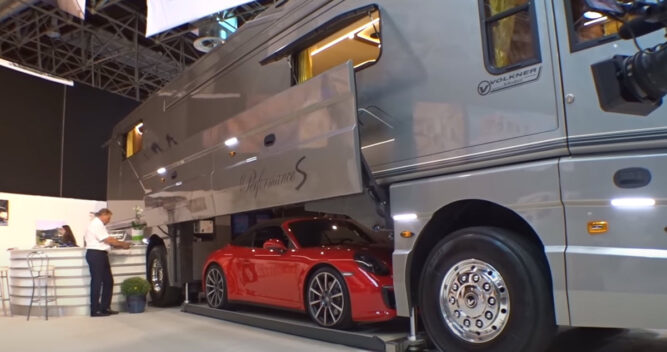 My wife recently threatened me with a camping trip. I say "threatened" because I've never been camping and any camping trip we take better have air conditioning, a shower, and protection from the elements and wild animals. I grew up in the city and camping wasn't something that my family did. In fact, my parents would have been horrified at the thought. However, it does sound fun as long as the conveniences are there. For example, going camping in a cabin appeals to me. We can sit on the porch (or better, in the hot tub), and enjoy the fresh air and sounds of nature.
When it comes to camping in an R.V., I'm all for it as long as it's something we can figure out how to work. Of course, there are complications with these vehicles. How do you empty the toilet? Where/how do you plug it in at a campground to try to get electricity? It's not just something you can jump in and drive away in. However, we recently discovered the Volkner Performance Caravan, and it's a beast. Let's check it out. First of all, it costs $1.7 million, much more than any house I could ever afford. The Performance S is the newest model by the Volkner Mobil company.
— Off The Main Page (@offthemainpage) April 3, 2021
This bad boy is sleek and is 40-feet long. It contains a double bed, a spacious lounge area, and a fully equipped kitchen. Also, you'll have a nicely heated bathroom so that you don't get cold on those chilly mornings. Perhaps most importantly, it comes with a built-in garage that has an electrohydraulic lift. It fits a small car, such as a Mercedes or Ferrari.
— Off The Main Page (@offthemainpage) April 3, 2021
If you're dying to get out on the open road, this guy will get you there. You can find all sorts of adventures, and what a great idea in the current era, where people's travel plans have been somewhat curtailed. It's basically a five-star hotel on wheels. Check out the video below for a full tour.