There are a lot of fun activities that we can do on our own or with our family. Some of us enjoy having a family game night and others might like sitting down and watching a good movie at least one night a week. Although they can be a lot of fun, one option that you would certainly want to consider enjoying with your family is camping. Not only can it bring the family closer together, it allows them to do so in a setting that is beautiful, peaceful and really lends itself to building strong family relationships. There's only one problem with camping, it can sometimes be close quarters.
When you find yourself out in the middle of nature, struggling to make use of the size of the tent that you have, your thoughts are going to turn to this article. After all, this tent is not only large, it is absolutely humongous. It's the perfect way for the entire family to kick back and enjoy some rest and relaxation. It provides some adventure at the same time, but there are no close quarters when it comes to this outdoor living space. It is so large that you will find yourself moving about on the inside and loving the elbow room you have available.
Although some of us may appreciate sleeping in a small tent, this tent by Cabela's is certainly something that adds to the overall camping experience. You might even say that it takes everything to the next level! After you see the outside and the inside of this wonderful mansion tent, you may never consider going back to your regular camping tent ever again.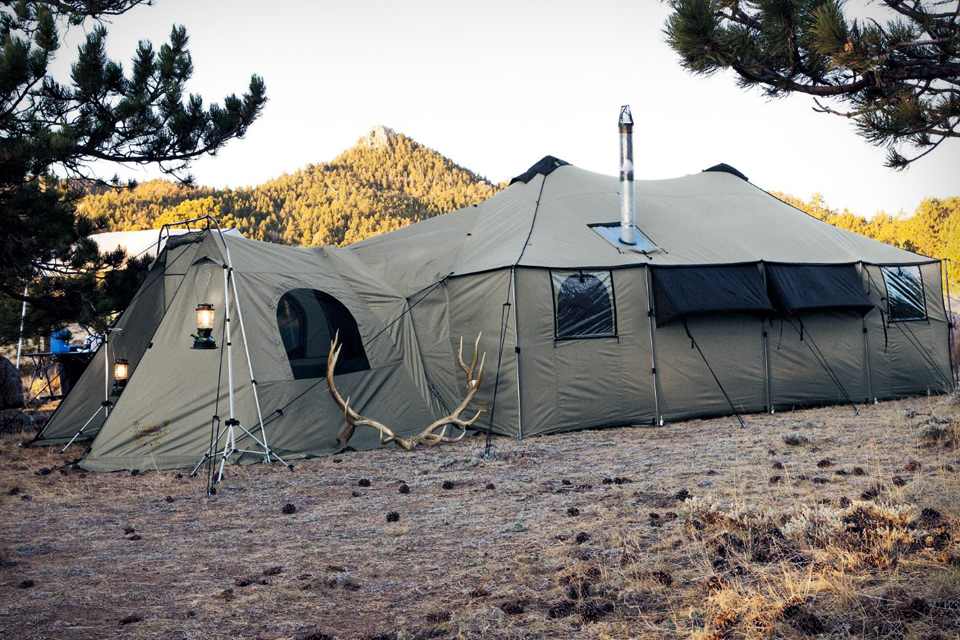 You might consider this to be a home away from home or perhaps a base camp that is portable.
The name of the product is Cabela's Ultimate Alaknak tent. It is more than just a small space were a family can enjoy some time in the wilderness, it is a true tent mansion. It is larger than what most people would ever imagine taking out in the woods but once you see it in action, you may never consider going into the woods without it.
Needless to say, at 13′ x 27′, it is quite easy to fit an entire family into the tent as you are going camping. You might even find that you are bringing friends along, just to fill out some of the extra room. If you are somebody the suffers from claustrophobia, you won't need to worry in this tent. The sidewalls are 5 feet high and you can easily stand up in the middle of the tent.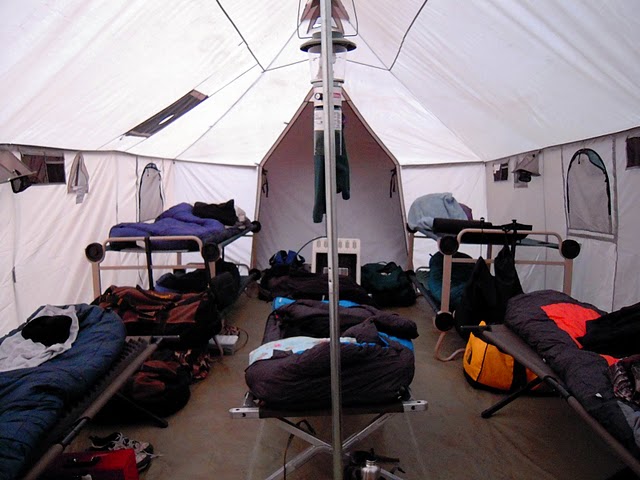 This is perfect for hunting trips, family camping or a camping party. The only problem that is really known about this large tent is the fact that it does take some time to set up.
Aside from being quite large, it is also made of a high quality tent cloth material and is water resistant. It can take a beating in the woods and still stand up to the storm.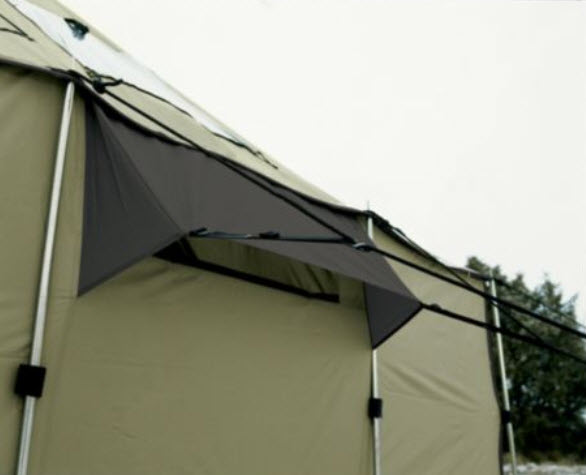 There are a number of features that you will appreciate about this tent. It has a separate exit and entrance door that is complete with overhead awnings to protect yourself from bugs, rain and snow.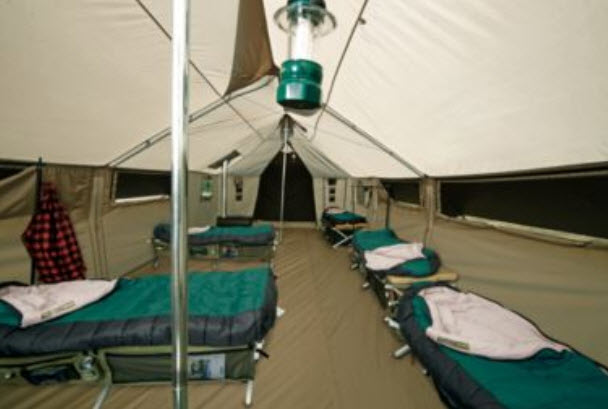 The main area can easily fit 11 beds but it doesn't mean that you are limited to only sleeping in this tent. In fact, you might find that it is the perfect place to have a party and if there are only a few of you along, you will have more than enough room available.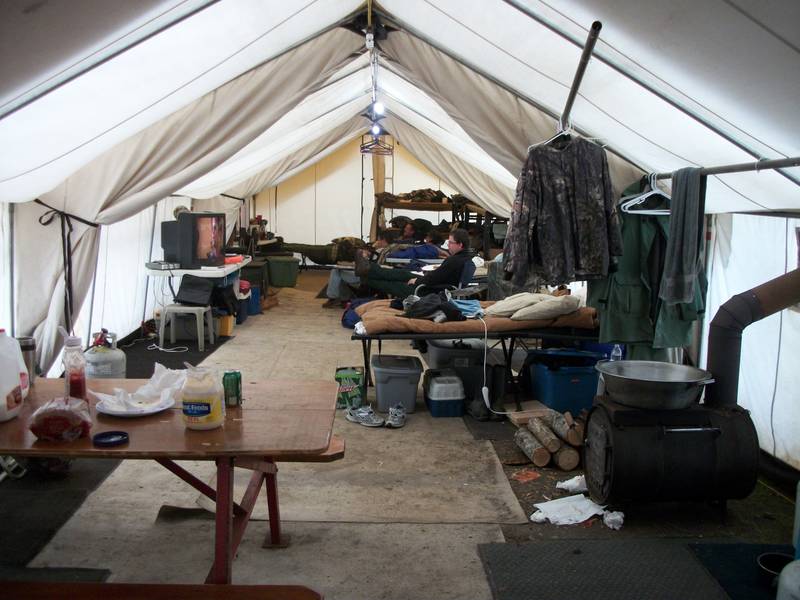 The front door has a zippered panel so you can even cook some warm meals on the inside. The roof panel also adds to the overall comfort of this tent mansion.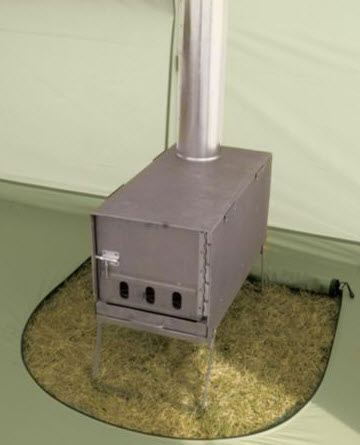 Duel lined Windows line the walls of the tent so if you want to take a look at what is outside, you can do so quite easily. You can also keep the window shut and sleep in. There are no rules when you are camping with the family.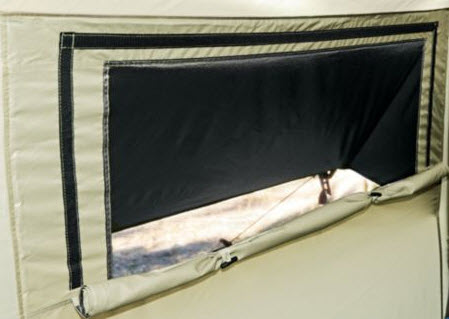 Another excellent feature of the Ultimate Alaknak tent is the fold-down shelves. It's the perfect place to hold your cup or any gear when you need to free up your hands.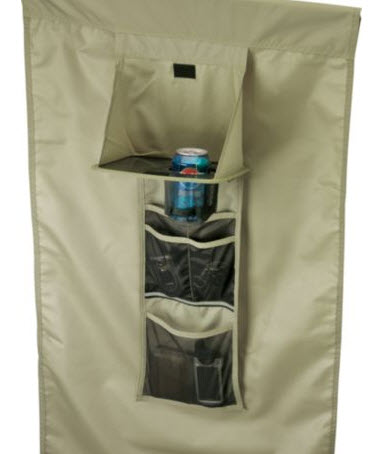 There are 10 perimeter poles and 2 support poles along with an exterior pole. In other words, it is as sturdy as you need it to be.
You might be concerned over the possibility that the tent would have too much surface area and could easily collapse. Don't worry, you are well covered.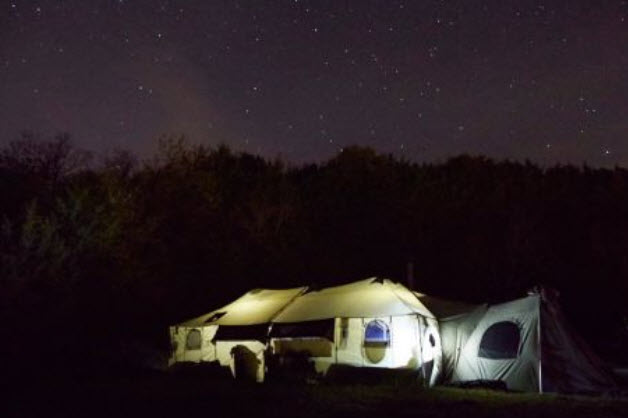 If you plan on purchasing this tent, you should set aside some extra money. The cost is about $1500 and you will be packing 127 pounds of tent into the woods with you.
If you want to spend some time outdoors, however, this is the way to do it.
You know you love this tent. Why not share it with you friends on Facebook?