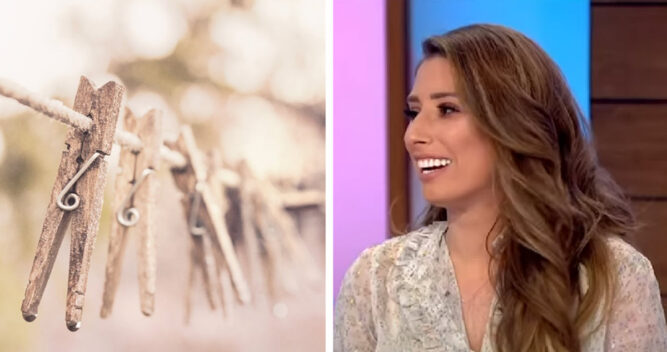 "Loose Women" star Stacey Solomon has shared an ingenious hack with her fans that they're raving and calling it a game-changer. The English television personality and singer became a star when she finished in third place on "The X Factor" in 2009. The fact is, most people would rather do anything besides laundry, and that probably includes stars like Stacey. The 31-year-old is a busy mom of three and we all know what it's like to be raising children and being a working parent. When it comes to household hacks, Stacey is a whiz, as it turns out, and she has shared some great ideas over the years.
Recently, a fan named Emma Louise Cooper shared a post in Stacey's Facebook fan group, saying that she once saw Stacey doing this and sharing it on her Instagram story. Emma said that instead of putting clothing on the clothesline with clothespins, put them on hangers first, straight out of the washer. Then, all you have to do is hang them in your closet when they're dry. The wind and sunshine make line-dried clothing and linens smell so nice, and it's a wonder that more people don't still dry their clothing this way. My wife swears by drying towels like this, saying that when they're stiff they're natural exfoliators.
If you try this hack, do this to keep the hangers from sliding around. Simply place clothespins (pegs) on either side of the hanger to secure the hangers in place. It's honestly a fool-proof method. Emma said that she loves this technique because it means less ironing for her and her family. She also is able to stay more on top of her laundry since there aren't a bunch of clothes to fold and put away. As a mom of an autistic child, she said that it also helps her child to have things so easy. With five children, it's been a life-changer for her, she shares.
Watch the video below for more great tips from Stacey.
Image: Pixabay