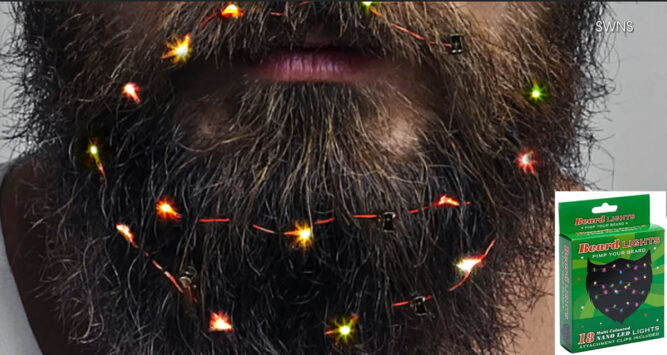 It seems like you can find fairy lights just about everywhere nowadays. Folks are putting them on their plants, pets, their fridges, cars, you name it. But now guys can deck their beards with fairy lights too! Whether you're a burly biker or a hipster banker, you can now show off your Christmas spirit in style with fairy lights that fit right onto your chin fuzz! The Etsy store ExactlyWhatINeededGB currently sells these marvelous shinies for about $16.55. These lights are sure to make any bearded fellow the star of the show at any social distancing holiday event this year; they really twinkle on Zoom!
And if you've got an ugly Christmas sweater and Santa hat on tap this season, these lights are the perfect thing to complete your look for some truly epic Christmas photos. While there are other Christmas beard lights on the market, we've found these to be best sellers on Etsy, as folks really give them high marks for quality and reliability.
— Off The Main Page (@offthemainpage) November 22, 2020
The lights feature 18 multi-colored nano LED lights that are easy to set up with a control switch that slides discretely down your shirt.
— Off The Main Page (@offthemainpage) November 22, 2020
Now we must offer a word of caution. It's not a great idea to put these lights on when your beard's wet, not that we're saying they're an electrocution hazard or anything (but we're not NOT saying that either).
— Off The Main Page (@offthemainpage) November 22, 2020
These lights aren't just great for beards, ladies you can also wear them in your hair for some amazing effects.
So now couples can have fun making all kinds of fun videos and pictures while rocking their fairy lights.
You can also check out this video showing off these beard lights below.