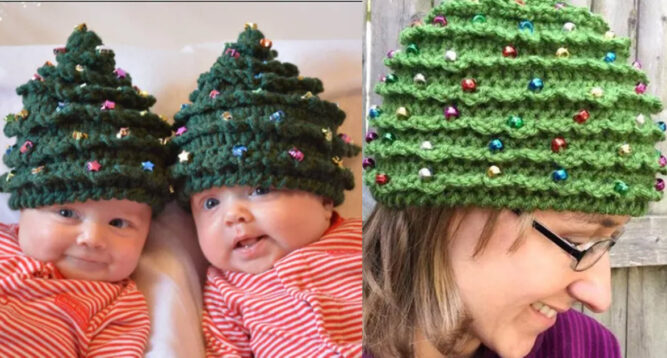 Christmas is a special time when we end a year (especially really rough ones) on a high note, celebrating all that is good about humanity. We like to decorate our homes with festive holiday decor during this time, but many of us also like to decorate ourselves with clothing that reflects our holiday spirit. And this year, instead of just dusting off that old Christmas sweater, why not add a little something special to really show Santa you mean business? One fun way to take your Christmas game to the next level is wearing a handmade crochet Christmas tree hat.
We've found a seller on Etsy who's offering crochet patterns so you can make the most adorable crochet Christmas tree hats out there.  You can also decorate your hat with cute decorations like multicolored stars and beads. The hats are perfect for people of all ages, although we have to admit they look ridiculously cute on babies. Instead of drab, ordinary-looking beanies, you can keep your baby's head warm while turning heads everywhere you go.  But be careful. We can't guarantee you won't have an influx of strangers wanting to come over and start babbling their heads off at your precious ones (just make sure they do so from at least six feet).
The trees can be put together using an easy beading technique. And the patterns also include a step-by-step tutorial that will guide you on how to execute the reverse single crochet stitch. While it may sound hard, it's actually an idea stitch to learn for beginners.
With this easy pattern, you can play around with mixing and matching different colors and details to make your own unique masterpiece.
However, it's highly recommended that you do have some basic crochet knowledge under your belt, but once you've got that down, you're on your way to a magical experience.
You can find these patterns on Etsy in the TooCuteCrochet store for about $5.00.
Just imagine making matching hats for the entire family. Would these hats not make for the cutest pictures ever?