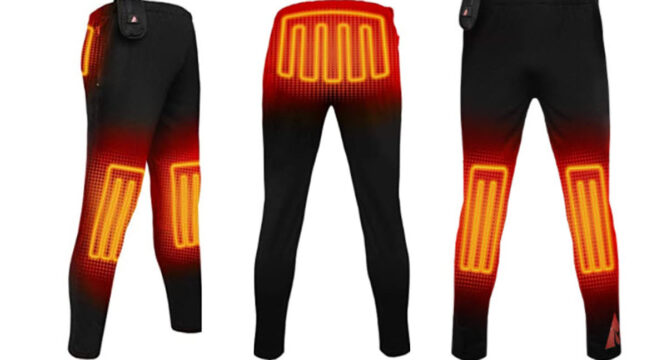 Like it or not, summer's outta here, fall's upon us, and winter is…well, you know. And for folks like myself who find themselves shivering in environments lower than 65 degrees, one great gift idea are these heated pants being sold on Amazon. Now, any cold-natured person can enjoy the great outdoors even in freezing temperatures thanks to heated pants that keep your legs and tush nice and warm anywhere you go. Need to walk the dog, and it's 15-degrees Fahrenheit outside? No problem. Want to enjoy a nice snowball fight with your kids? Well, now you can and not have to worry about turning into an ice sickle.
The ActionHeat 5v Base Layer Battery Heated Pants allow you to enjoy activities such as sledding, skiing, and camping without having to mummy-up in layers and layers of thick, inflexible clothing. The pants features three built-in heating panels strategically placed to warm each of your thigh/knees and posterior. They are a must-have for those who can't tolerate being cold. On Amazon, they're priced at $159.99 and are offered in different sizes for women and men.
"Designed to be worn as a base layer, the ActionHeat electric heated pants make an innovative choice for those who want to stay warm outside without the bulk of heavyweight clothing," reads the product description.
— Off The Main Page (@offthemainpage) November 17, 2020
The pants are also machine-washable (gentle cycle only) and are constructed with a polyester-spandex blend ensuring a flexible and comfortable fit. The battery-powered heating unit has three settings: High (red), which provides two hours of heat, Medium (white), which provides three hours of heat, and low (blue), which provides 4.5 hours of heat. And the onboard control unit allows you to easily switch back and forth to find your perfect level of comfort.
— Off The Main Page (@offthemainpage) November 17, 2020
The pants also come with a 5V power bank and a USB charging kit. The battery takes about six hours to get a full charge and features four LED lights displaying charging status and remaining battery life.
— Off The Main Page (@offthemainpage) November 17, 2020
Plus, ActionHeat also offers other apparel such as heated vests, jackets, socks, caps, gloves, and base layer tops.
— Off The Main Page (@offthemainpage) November 17, 2020
Many folks are spending more time outdoors during the pandemic, and heated clothing is a great way for folks to socialize or enjoy nature without suffering cold temperatures.  You can also watch a commercial featuring Actionheat's line of clothing in the video below.