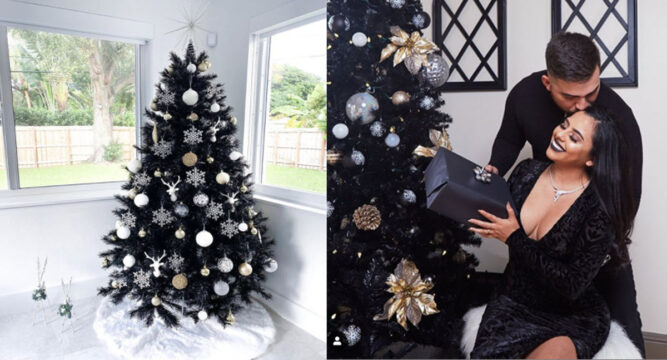 There are a lot of folks who are averse to trying new things. They are typically just fine with going up to the attic each year to drag out the same old Christmas decorations and putting up the same old green Christmas tree. However, for those who like to walk a bit on the wild side of Christmas, there is a hot new trend that's sure to knock your friends and family's socks off! Black Christmas trees are in this year, and we have to say they make any Christmas decore look incredible. While they are a little unusual, I must say I really dig the idea.
There's something rather chic and kind of edgy about a black Christmas tree. While we may see all-white trees from time to time, those can be as boring as green trees. A lot of folks love to decorate using a "Nightmare Before Christmas" theme, but of course, there are many other options as well. For example, I had a friend who had a black tree last year that really added a new dimension to his Christmas lights; it was like seeing the stars in the night sky right in front of you! In fact, my friend ended up keeping his tree up year-round.
So, if you're the type who enjoys a bit of Christmas spirit but you're not really into the same-old glittery decor and traditional Christmas colors, you can really explore new boundaries with a black Christmas tree.
"Black Christmas trees are not only a unique statement piece, but they have their own mystical presence," Julie Cassetina, a spokesperson for Wayfair, told "Good Morning America" of the odd appeal of black trees. "[They] really help ornaments and string lights pop. You could deck them out with lighter colored ornaments that'll really stand out against the black, or simply add delicate, white string lights that almost create a feeling of evergreens at night in the wilderness."
Now, if you're looking for a good tree, the Tuxedo Black Christmas Tree sold by Treetopia comes pre-lit and is available in different sizes, from five feet all the way up to nine feet. You can find it currently on sale for anywhere between $130 and $550, depending on what size you're looking for.
Here's a video showing off a few more black Christmas trees.