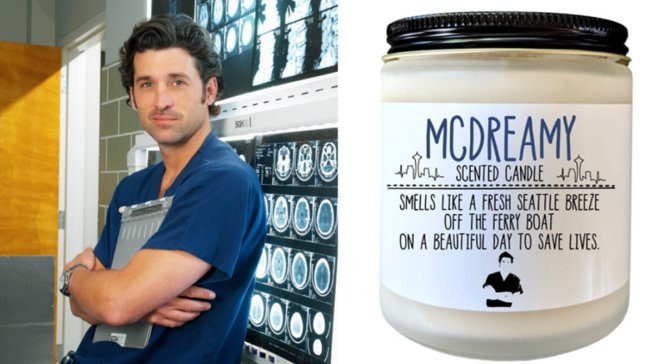 Who doesn't love a nice scented candle? They have the power to change our moods and the vibe of any room in an instant. Salted Caramel,  Cottage Breeze, Tropical Island, Buttercream, Fresh-cut roses, there's nothing like having heavenly scents anytime you want.
And now, there's a brand new candle out there that will fill your space with the scent of a fresh Seattle breeze as well as our favorite gone-but-never-forgotten TV doctor.
The McDreamy Candle is named after Derek Christopher Shepherd, M.D, the fictional neurosurgeon on "Grey's Anatomy."
And it can be all yours for $20. The label even has an image of the beloved Doctor in his scrubs, showing off his life-saving smile.
The candle's sold by iheartpopcandles on Etsy and rocks a rating of 5 out of 5 stars by over 100 happy customers.
What a fantastic gift idea for fans of the show!
Reviewers say that the candle smells absolutely amazing. The description on the Etsy page says it smells like a mix of "sea and salt."
However, the candle's label gives us a much better idea of the aroma:
"Smells like a fresh Seattle breeze off the ferry boat on a beautiful day to save lives."
Customers can also kick it up a notch and take their McDreamy experience one step further by buying a full gift box that comes with even more Grey's Anatomy" items, such as pencils with popular lines from the show like "Dance it out." Another reads, "You're my person."
The kit also has a box of matches with the words, "It's a match," written on them. So cute!
Don't delay, these candles make the perfect gift for any occasion, or you can light one up to transform your space into a McDreamy getaway.
What do you think of the McDreamy candles? Have you smelled one? Let us know in the comments section, and please be sure to share this McDreamy story with your friends and family.
Source: Insider.com