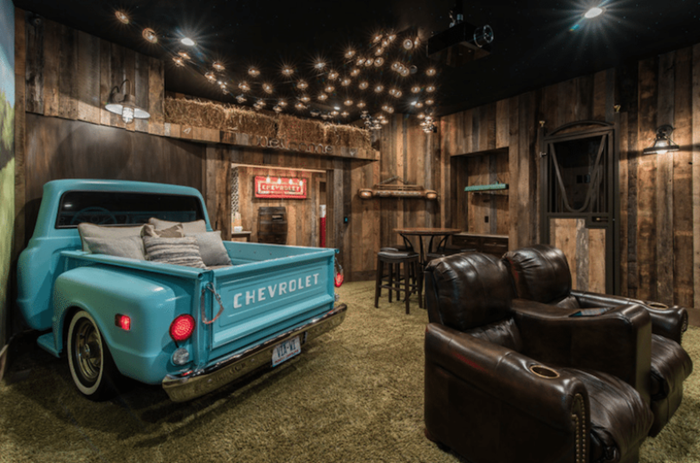 What do you get when you pull together a guy who builds cars for NASCAR, a muralist, a barn supplier who crafts horse stall doors, and a craftsman who can turn a wheelbarrow and a barrel into a popcorn machine? The perfect basement family room, that's what you get.
Homeowner Tracie Stier-Johnson had a vision. In her beautiful 17,000 square foot home, she wanted lots of elements of fun, and that included a family movie theater in the basement.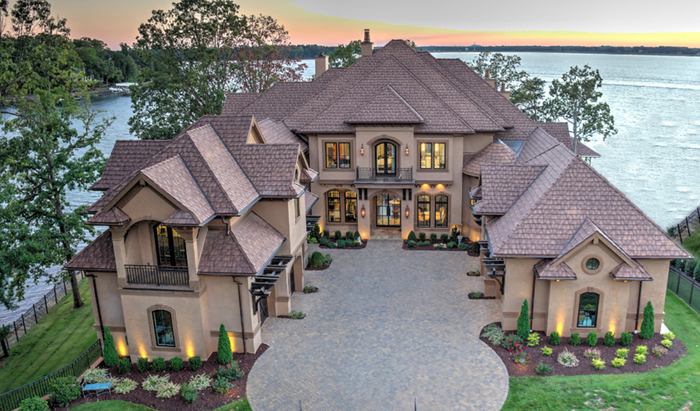 However, she didn't want just any old basement movie theater. Her vision was to have a movie theater that is reminiscent of the old drive-in movie theaters. While drive-in movie theaters are still around, they are for the most part a thing of the past. But this creative North Carolina mom wanted her four daughters to experience that same vintage vibe when they're watching movies with her and with their friends.
"I wanted it to have the feeling of a barn, but also feel like we were outside at a drive-in under the stars," she says.
Tracie had the room lined with reclaimed barn wood to give it a rustic look, and she had shaggy green carpet installed that almost looks like grass. Also, on the wall, she had a mural painted that included some of the family's favorite horses, Rocco and Joe.
"The mural looks like the view you'd see from a barn and keeps the room from feeling like a closed-in theater," she explained.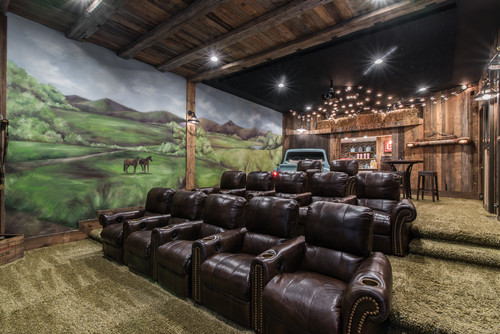 The real star of this entire show, however, is the replica Chevy pickup truck, done in turquoise. You can drop down the tailgate and snuggle up with pillows and blankets to watch a flick or gaze up at starry patio lights that look like stars in a night sky. Tracie owns a real vintage Chevy pickup and at first, she wanted to use that. However, the logistics and a good bit of rust made that idea a bit prohibitive. So she commissioned a man who builds cars for NASCAR to create this replica from the molds of an original 1968 Chevrolet C10 stepside pickup truck.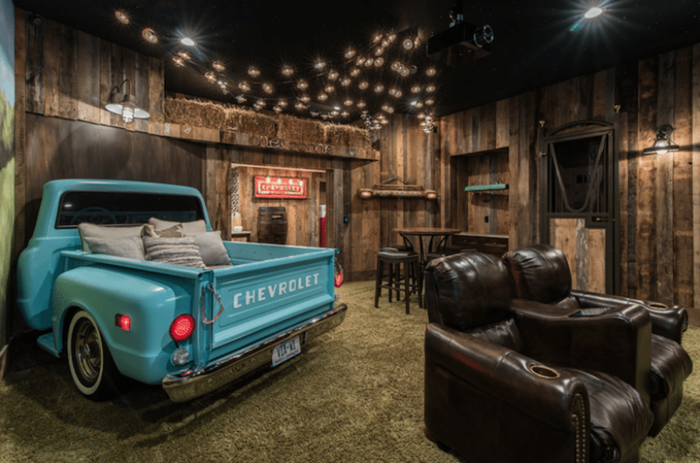 The taillights can even be kept on because they're incorporated into the audiovisual system. The overhead light is made out of an old truck radiator.
Why is the truck turquoise? The rest of the house has elements of turquoise in most rooms, so it just made sense, Tracie said.
"I love turquoise, and I used it all over the rest of the house, so the color choice was a no-brainer," she says.
Note in this photo you can see the hayloft with real hay bales. Tracie felt like that was a must-have for a rustic-vibed room like this. The welcome sign above the opening to the snack bar is customed out of horseshoes.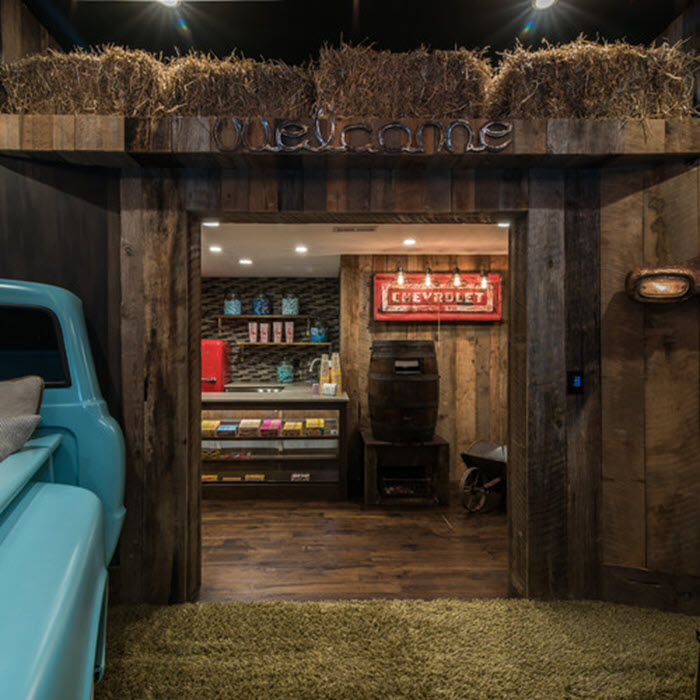 And you can't have a drive-in theater without a concession stand. Of course, you can't! And this concession stand doesn't disappoint. It has a fully-stocked snack bar, a barrel that hides a custom popcorn machine, and even a vintage Coca Cola machine. Tracie had saved the soda machine for 20 years in anticipation of a cool project. The wheelbarrow to the right of the popcorn machine barrel is used to catch the popcorn.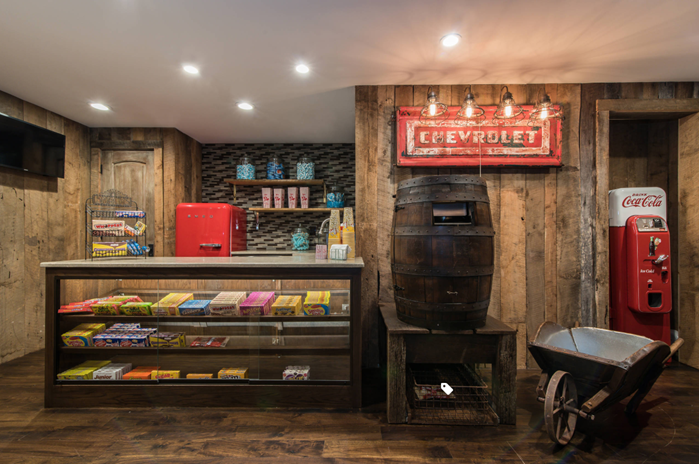 This house's fun elements don't end with the movie theater, though. For example, check out this game room.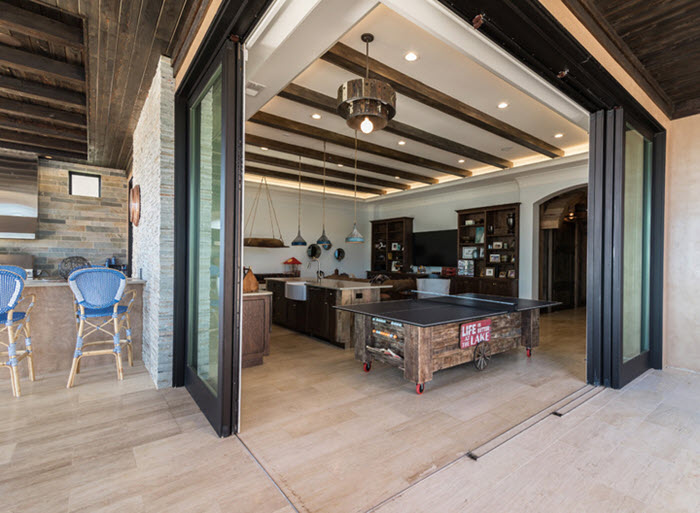 The rest of the house is just as fun and cool. Look at this ladder that leads up into a loft.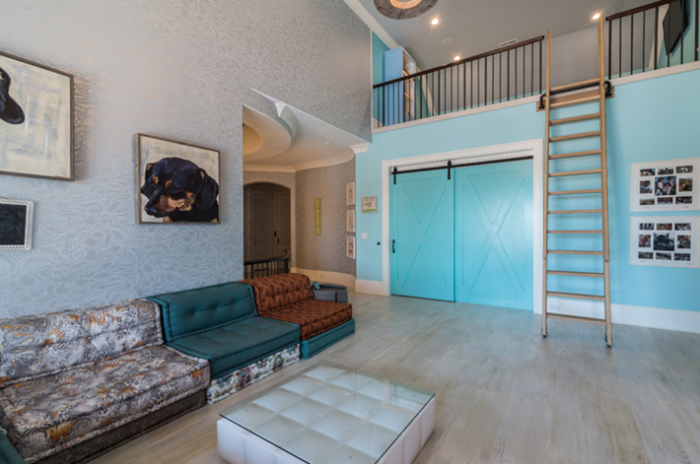 And aren't these colors fun? You can really see her Tracie's love of turquoise all throughout the home.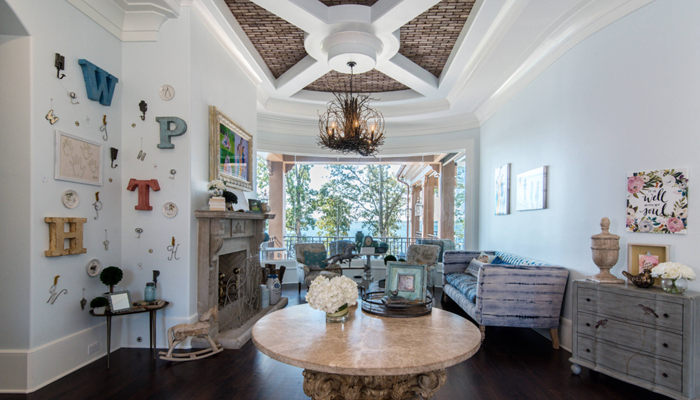 Oh and if you ever want to escape from this awesome place, you can do so with this fun slide instead of taking the stairs.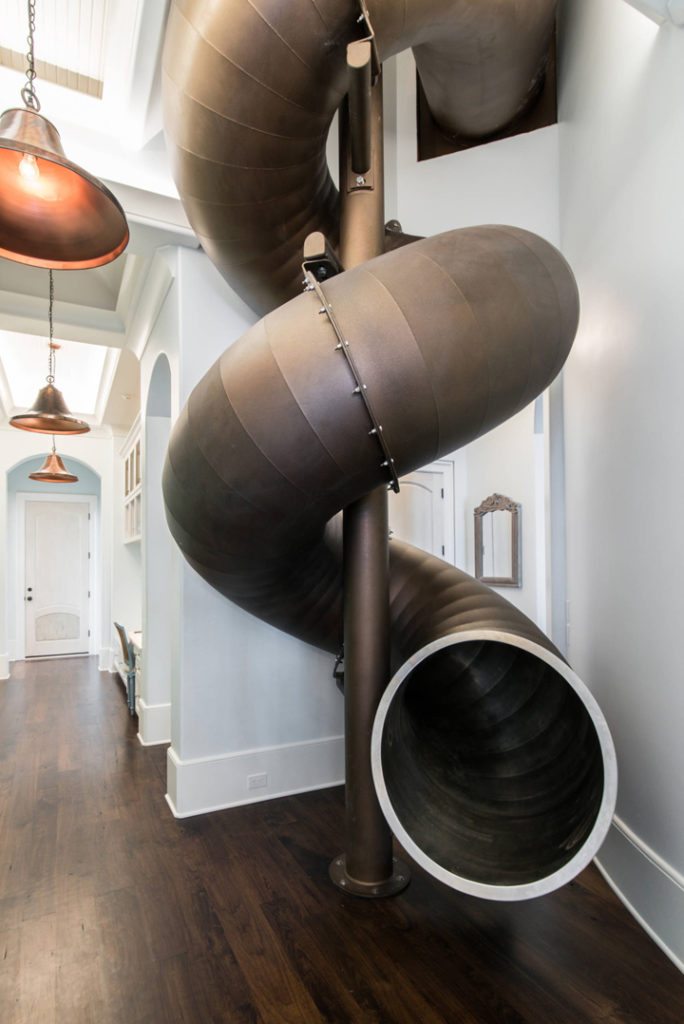 However awesome the rest of the house is, though, that basement takes the prize. Who wouldn't love having that? Or even just being invited over for a movie. What a fun experience.
"Movie nights with our girls are our favorite thing," the mother of four says. "It's one of the most-used rooms in the house," she says.