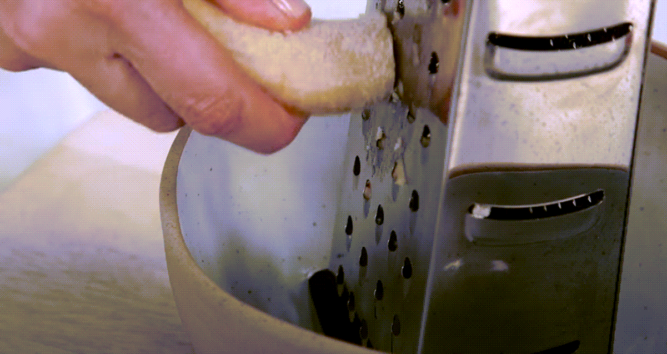 Every kitchen has one: the ubiquitous cheese grater. In fact, in my kitchen, I think we have two or three. Some are box graters, which are the easiest to use, and we also have a couple of flat graters laying around. On top of that, we have a food processor with a grater attachment, so let's just say we've got the bases covered. Now ask me how often we actually grate cheese. The truth is, we usually buy our cheese in the bag already grated. However, the fact is, cheese that comes already grated doesn't melt as well as freshly grated cheese. Also, to keep it from sticking together, they coat it with a small amount of flour.
Here are some great tips for getting the most out of your cheese grater.
1. Use a Cooking Spray Like Pam
If you apply a cooking spray like Pam to the grater before grating your cheese, it will grate more easily and make your work less difficult. It will also be easier to clean the grater when you get ready to do dishes.
The inside of a cheese grater pic.twitter.com/QNsOAqcM9T

— Diane Doniol-Valcroze (@ddoniolvalcroze) April 7, 2021
2. Clean Your  Cheese Grater with a Toothbrush
Cheese graters are notoriously hard to clean. However, a clean toothbrush that's reserved for this purpose will help you get your cheese grater as good as new.
3. Don't Neglect the Smaller Holes
I'm pretty sure we've never used the small holes on our cheese grater for anything. However, they're perfect for getting that finely grated cheese that's become so popular. It also melts more quickly.
4. Don't Forget the Wide Holes
Those big slots on the side of your cheese grater are perfect for slicing off nice slabs of cheese.
— Off The Main Page (@offthemainpage) April 7, 2021
5. Use Those Spiky Holes
Do you know those tiny little spiky holes that for sure you've never used? You can use them to grate cheese into a powder. Think home grated parmesan cheese, for example.
6. Lie Your Box Grater Down
Instead of standing your grater up (the logical way), you can also lay it down flat if you need to shred your cheese from a different angle.
— Off The Main Page (@offthemainpage) April 7, 2021
7. Consider Other Styles
Whether you're wanting to try a microplane cheese grater or a rotary cheese grater like the servers at Olive Garden use, there are tons of options out there for grating your cheese.
Here's a great video for more awesome tips for using your cheese grater.