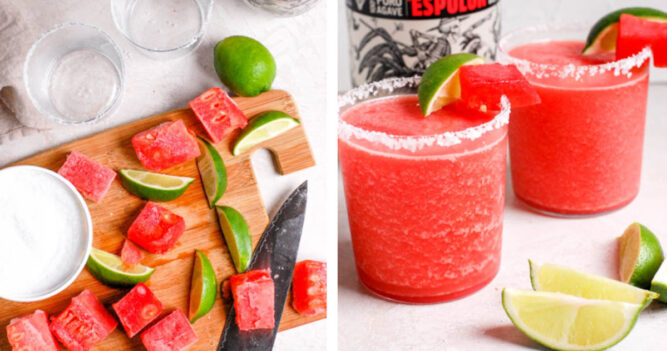 Can you imagine summer without delicious cold watermelon? And what about frozen margaritas? For many people, summertime is a great excuse for indulging in the tequila-laced blended beverage. But here's something even better: Watermelon Margaritas. How does that sound? I ran the idea by my wife and she said it sounds delicious to her. She loves both watermelon and margaritas, but there aren't many people who don't love these two delicious treats. We found a recipe at Erin Lives Whole that is so naturally delicious that it doesn't even have added sugar. It doesn't get much better than that.
The great thing is that you can serve these with ice (on the rocks) or blend them in the blender to make delicious frozen drinks. They're super easy to make and before you know it, you will be sipping deliciousness all summer long. The author of the blog is a lady named Erin, and she recommends using a white tequila like Casamigos or Espolon. However, you could use any white tequila that you can find. There are certainly premium brands, but in my opinion, tequila is tequila. However, when it comes time to choose your watermelon, you need to be super picky about that.
Since the watermelon is the only sweetener, the riper the watermelon is, the better your frozen margaritas will taste. Erin says that when you're finished making it, you will have a drink that looks perfect for a hot summer day. It doesn't get any better, does it? If you make the frozen version, cut the watermelon up into pieces and freeze it for six hours until it's completely frozen. Then you'll make your cocktail and it will be nice and thick when you blend it. When your margarita is finished, use a nice juicy slice of lime to garnish it. Be sure to squeeze some of that lime juice into your drink and stir.
Besides the watermelon and tequila, you will also need Triple Sec, which is an orange-flavored liqueur that is in all margaritas. You can find the recipe on Erin's blog. Enjoy!