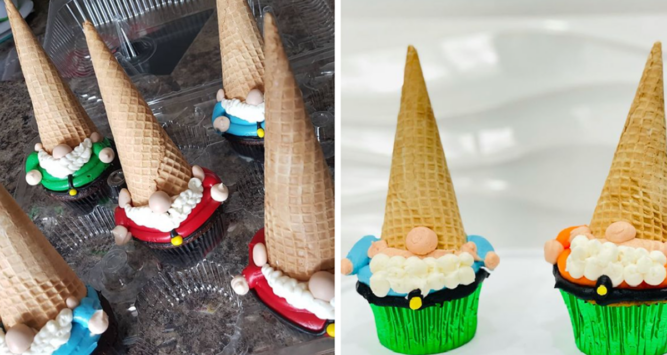 My wife says I have a sweet tooth, and while I do like sweets, I think I can live without them. Most of them. But if there's one dessert I would have a hard time living without, it's cake, and when it comes to cakes, cupcakes are the best. Why do I say that? Because they have a lot of frosting, of course. I'm a guy who loves frosting, especially chocolate frosting, and the very best is buttercream frosting. Since my wife thinks I eat too many sweets, she doesn't bake much. She says that she certainly doesn't need all of the sugar, and she insists that I also do not.
Hey, she's not wrong. However, a treat every now and again is a good thing, right? And with the gardening season upon us, it's the perfect time to make these adorable garden gnome cupcakes. Gnome cupcakes are all over social media and gardening enthusiasts and fairy folks are both loving them. The thing is, I like this idea not just for gardening season, but you can also use this idea around the holidays, right? Don't some of these guys look like little elves? We love this idea. Some of the guys in these photos look like Santa's elves, don't they? And you can make them with whatever flavor you like.
You can use plain sugar cones or colored sugar cones, whichever you prefer. These would be a huge hit at an office party or a school party. You could even serve them at a summer tea party, I think. Or get this: a garden party. Loving these cupcakes. I like the colors with the pastel frosting as well. I think these would be great with a white cake and the colored frosting.
The more colorful, the better, but plainer is also a delight.
These are beautiful.
Who's hungry for cupcakes now? I admit, these are really great.