There are so many different types of foods that we enjoy that sometimes, it is difficult to list them all. Some of the foods are considered a luxury item and they tend to be expensive and difficult to prepare but extremely delicious. Other foods are less expensive and we may find that they are on the table more often than not. Potatoes are one of those types of foods. In fact, you probably have eaten potatoes at least one time this week and sometimes, you may have had them multiple times throughout the week.
Potatoes fall into a rather unique category. First of all, they can be made in so many different ways that it is sometimes difficult to try every option. In my family, we ate them baked, fried, mashed, whipped and almost anything else that you could possibly imagine. That doesn't mean, however, that we aren't open to try something different every once in a while. That is where this delicious recipe comes in. It is for a Parmesan potatoes stack and when you try it, you may never turn back and try an ordinary potato again.
What do you think of when you think of potatoes? Some of us may think about French fries, others may think about a baked potato that is loaded and still others might think about delicious, smooth mashed potatoes. All of those are certainly wonderful options but they also have something in common, the fact that you are eating a comfort food. These foods are something that many of us turn to when we are feeling low or if we just need a quick pick me up. A comfort food is always there for us to make us feel better.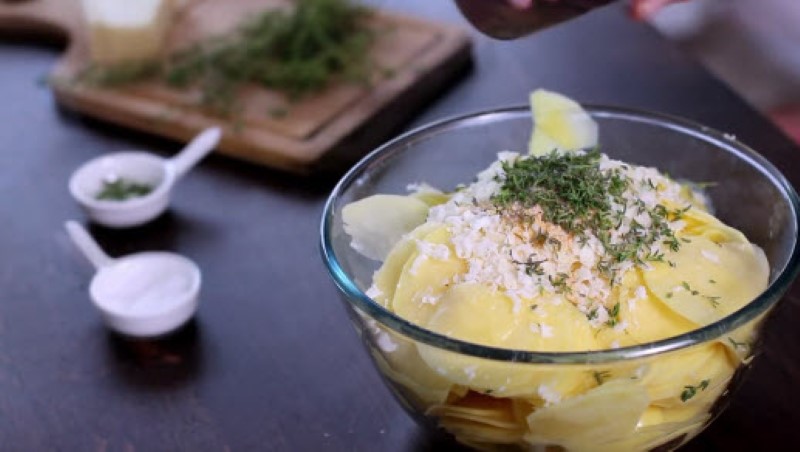 This recipe is shockingly simple yet it is something that most people have never tried before. If you are looking for a different way to feed potatoes to your family, this is an option that you would want to consider. You can put it together in just a few minutes and before you know it, you are dining on something absolutely delicious. The first step in the process, however, is to grab the ingredients. Here is what you need:
3 teaspoons butter
2 teaspoons Parmesan cheese
1 teaspoon garlic powder
1 teaspoon thyme leaves
salt
freshly ground black peppeer
8-10 gold potatoes, cut into 1/16 inch slices
One thing that I would like you to notice is the fact that this recipe calls for gold potatoes. There are many different types of potatoes but gold potatoes tend to be smooth, creamy and rich. There is nothing quite like the buttery flavor of a golden potato and when they are put together in this recipe, it is potato perfection.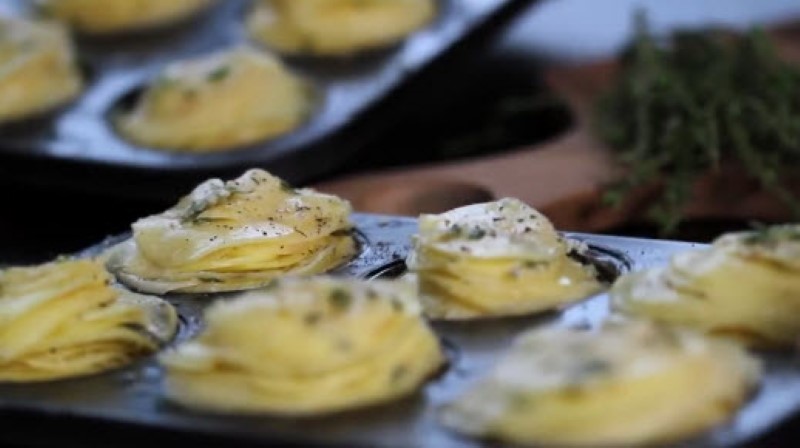 The real key to making this recipe work is to slice the potatoes thinly. This can be difficult if you are using a standard knife and that is why it is recommended that you use a mandolin. A mandolin will allow the potatoes to be sliced to uniform thicknesses. You do need to be cautious about your fingers, and start to use the available tool when your fingers get too close to the blade.
Another important factor is to preheat the oven to 350° while you are putting the potato stacks together. Why is this important? Because a preheated oven is going to bake the outside of the potatoes at the same time as it is cooking the inside. If you don't preheat the oven, the potatoes could get finished too soon and you'll have that golden brown surface that all of us love so much.
After you have all of the ingredients mixed together, it is just a matter of stacking the potatoes in layers inside of a muffin cup of a muffin tin. More than likely, you have at least one muffin tin laying around and this is an excellent way to use it. After putting it in the tin, add salt-and-pepper to your taste.
The only thing that is left is to be patient while the potatoes are cooking. It may take up to 60 minutes until the edges turn golden brown and the center is a soft, creamy and delicious texture. At that point, you can sprinkle with some Parmesan cheese, rosemary and thyme.
This is one of those recipes that just keeps getting better. You can watch the entire thing take place before your eyes in this video. I'm sure that you will be making these for your family this week.
Be sure to share this delicious recipe on Facebook