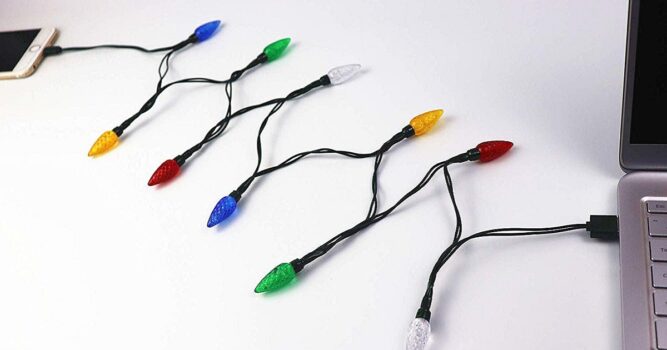 This time of year, there's no shortage of new and amusing Christmas-themed gear that is making a lot of folks feel much merrier! Right now, you can snag yourself a phone charger that looks like a string of glowing Christmas lights. Bam! Amazon carries this cool gadget, which is designed to work on iPhone models 5 through 8. It operates using a USB plug and comes equipped with ten multicolored LED string lights. Now, you may have seen something like this at Kohl's or Target, but this one gives you a generous 46 inches of length, plus you can just add it to all the stuff you're already ordering from Amazon and save on some gas.
These lights have been a hit online, and perhaps for the first time, a lot of folks don't mind letting their phone charge for a spell. It's just like having your own portable Christmas light show available for your enjoyment night or day. While you can leave this charger at home to do its job, you can also take it to work or on the road with you. Heck, you can even set up a little festive charging station at your next fancy Christmas soirée. These lights make incredible stocking stuffers and cost about $16 if you're an Amazon Prime member. But who says these are only good to use in December? By all means, make Santa proud by keeping the Christmas spirit twinkling into the New Year and beyond!
Please be sure to share this story with your friends and family.
Source: Tip Hero