As our beloved furry friends get a bit older, just like us, there are things they have more and more trouble doing. If you've ever felt a prohibitive or stiffness when trying to do an activity you used to do all the time when you were younger (such as play on monkey bars), then you know how it feels to realize you are not a "spring chicken anymore."
For Liam Thompson, he wanted to help his beloved Frodo, his 20-year-old orange tabby, since the kitty has trouble these days traversing the steep outdoor stairs that lead to their sunny poolside deck.
Thompson decided to make his cat's life a bit easier by crafting a special motorized cart that would transport his kitty up and down the stairs without Frodo having to break a sweat.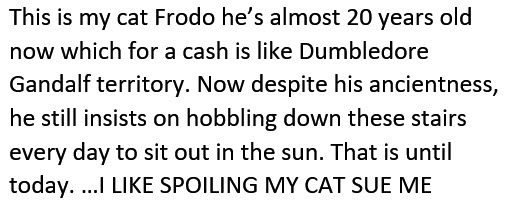 And Liam did just that, working tirelessly to build his kitty the perfect elevator.
He spent many hours trying to come up with just the right design.
Soon it came time to test his creation using a trusty stand-in.
But then the moment of truth arrived when Frodo would take his first trip.
As always, Frodo was cool as a cucumber.
And when the motor started, the kitty peered out over the top, perhaps wondering what was going on?
After reaching the bottom, Frodo seemed a bit bewildered.
However, once he reached his favorite sunny destination, Frodo's cares just melted away.
You can watch a video featuring Liam and Frodo below.
Please be sure to pass this adorable story on to your friends and family.