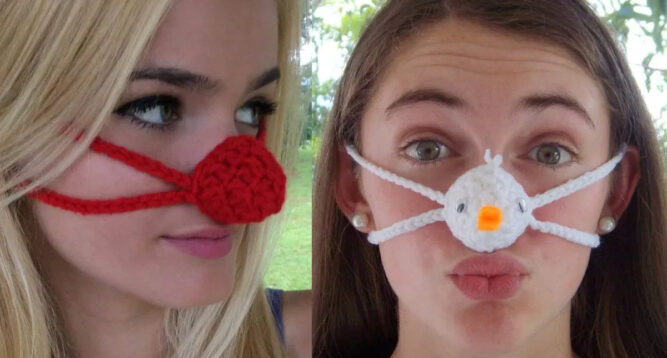 Winter is coming. But are you prepared? Is your wardrobe ready for the snow? Sure, you may have a few gloves, hats, jackets, scarves, and boots, but is that really everything? Perhaps you're forgetting a small part of your body that you always neglect to keep warm? Okay, that's great; you've got ear muffs too, but what about your nose? After all, they say that the nose is the exhaust vent to the soul. So doesn't it make sense to protect it from the cold? Well, now you can do just that with specialty nose warmers. And you can find Aunt Marty's Original Nose Warmers on Amazon and Etsy, as well as Oh My.
With your nose sporting one of these bad boys, it's certain to be the talk of your local Hobby Lobby parking lot this holiday season! According to Aunt Marty's Etsy page, the nostril-centric knitter dreamt up the concept for nose warmers while playing in the snow when she was a kid. Her scarf would not stay on her face, and her nose would get so cold that she had to keep returning inside to get warm. And, the next thing she knew, nose warmers were born!
Here are just a few of my favorites.
The Santa Hat
Hey, it's cold outside! So why not warm up the big bump on your face with this Christmas classic? You'll be climbing on roofs in no time with this classy knitted cartilage cap.
Pretty Lavender Bling Nose Warmer
Want something a bit more glamorous to rock on your snoz? Well, put some bling on your beak with this hot design!
Baby Duck Nose Warmer
You're guaranteed to look un-ducking-believable in this beautiful Baby Duck Nose Warmer. Nobody is going to confuse you for an ugly duckling when your rocking this adorable game-changer!
Snowman Nose — Nose Warmer
Are nose warmers the coolest? You snow it, baby! Believe us; this is the closest Frosty will ever get to your smell schnozzle when you've got this happening on your snout!
Red Nose — Nose Warmer
Want to go full-Rudolf this winter? Then you need to get yourself covered in the Red Nose — Nose Warmer! But it doesn't light up or anything, because that would be weird, right?
Happy Frog Nose Warmer
Getting a chill just thinking about cold noses? Frog-et about em'! Frogs may be cold-blooded, but this little guy will keep your snoz nice and cozy!
It's as plain as the nose on your face that the hottest new fashion trend this winter is taking place front and center on the faces of happy folks all over the world. Don't leave your snoz out in the cold, strap on one of these cozies, and get warm today!
Source: Rare