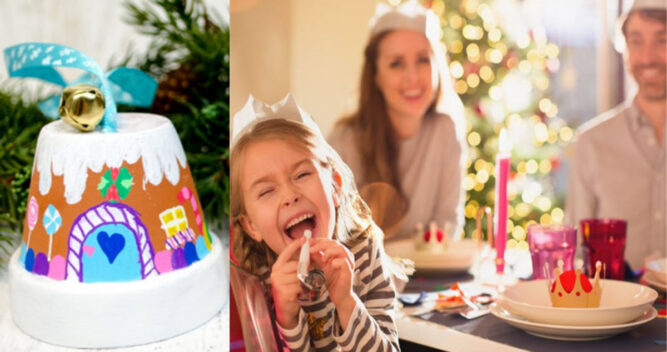 Just about everyone loves a sweet, delicious gingerbread house. It's one of the best parts of the Christmas season, in my opinion. They are so adorable but don't usually last very long once the kids (yes, blame it on them) get through with them. But wouldn't it be great if you could enjoy the beauty of a gingerbread house as a homemade Christmas ornament that you can hang on your Christmas tree? Well, this cute and simple gingerbread house ornament crafting project is something that parents can enjoy with even younger children, and it's good creative fun for the whole family to enjoy.
Plus, you don't have to worry about sugar crashes from these little gingerbread houses! Projects With Kids specialize in creative DIY projects for children, and they have step-by-step instructions on how to create these painted gingerbread house ornaments would be the perfect addition to any Christmas tree. And the best part? There's no annoying construction required! All you need is a pot for the structure, and kids can just paint on their favorite candy decorations — no sticky icing glue or crumbling cookies, and no tears. Just good clean fun; that's sure to bring the family closer together as you create priceless ornaments that you will want to pass down generation to generation.
You can hang this mini gingerbread house on your tree or maybe decorate the hearth of your fireplace? Why not make a little Gingerbread village table display? The possibilities are limitless.
This Christmas holiday DIY project is the perfect way to spend a snowy evening at the table with mugs of hot cocoa all around.
You can find instructions as well as a step-by-step video here.
Source: Simplemost