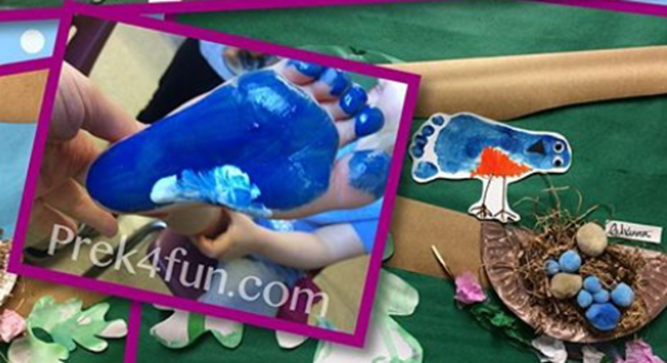 Were you looking for a unique and personal gift for a special aunt, mom, grandma, or another special woman in your kid's lives? Well, check out this clever little art project that's sure to get your little ones fired up to create some incredible works of art. Best of all, it only takes a few minutes, which could make it the perfect mother's day gift. We would like to think the creators at the Crafty Morning blog for sharing a project they call "Grandma's Tweet Hearts." This fantastic project is fun for all ages, from babies up to adults (although we can't help with convincing your teens to play along).
The first step is pretty straightforward. Dip your kid's feet in a bit of paint and then have them step onto your paper or canvas.  Next, you want to sketch out the outline for the other parts of the birds, such as the feet, beak, head, wings, and tail feathers. Once you've got it all sketched, your little ones can then fill in the sketches with their favorite paints. For a little bit of a challenge, try having them paint exotic birds you find on the internet. Kiddos of all ages will enjoy the challenge, and it's an activity the whole family can get into.
Now, if birds are not your thing, then maybe you would like to create some painted flowers out of footprints? Ideally, you would want to do this project with babies, as they have tiny little feet, but there's no rule against anyone of any age enjoying this project.
You can watch a tutorial on how to make painted flower footprints in the video below.