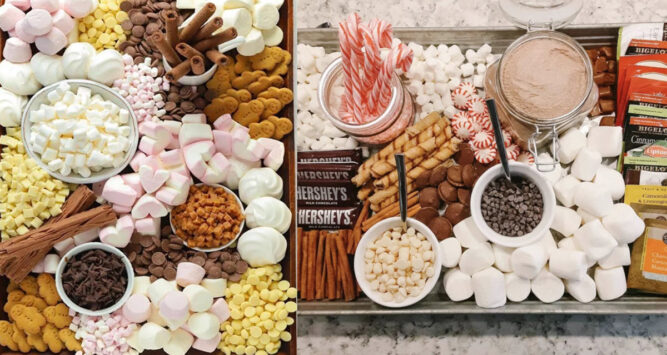 Okay, folks, if you're like me, then you're probably trying to lose a few inches around the midsection. But with 2020 being, well…2020, and Thanksgiving and Christmas around the corner, I'm afraid those healthy eating plans have no chance in the foreseeable future. Now, one of the newest diet-busting trends out there takes a holiday staple — hot chocolate — and dials it up to about 1,000! Hot chocolate is the perfect drink for those cold winter nights when it's just you, a few Christmas cookies, and an entire slew of Christmas movies on Netflix. Or, if you choose to let your family in the house, I guess it's okay to let them join the fun.
This year Instagram has been flooded with some of the most eye-popping Christmas ideas, such as black Christmas trees, but folks are really salivating over the prospect of making their own hot chocolate charcuterie boards. And who can blame them? I mean, you've got sprinkles, marshmallows, cinnamon sticks, whipped cream, extra chunks of chocolate, M&Ms, and all manner of delicious sweets to send your tastebuds straight to heaven! Here are just a few chocolate charcuterie boards to get you warmed up.
1. Just check out the presentation compete with chocolate chunks, pink marshmallows, sprinkles, and whipped cream. This hot chocolate charcuterie board means business!
2. Now, this board has whipped cream, marshmallows, and chocolate malt balls. Resistance is futile, folks.
3. Look out; they've thrown in some mint, white chocolate chips along with candy canes and caramel creme candies.
4. This Pro Level board includes caramel squares, chocolate chips, whipped cream, sprinkles, plus marshmallows, coconut, mint sticks, and salt! And I'm out of breath.
5. Now, this looks like something you might find at a hotel, but hey, still not bad.  I'd certainly stay there!
6. How much is too much? Well, this might be close to it, but we'll have to eat everything to know for sure!
You can also watch a video on how to make your own hot chocolate charcuterie board below.